Creative World Salon 2018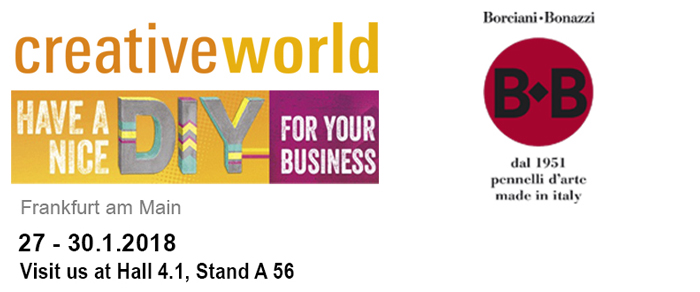 Creativeworld Exhibition is the largest fair dedicated to creative hobbies, fine arts, writing and stationery. Also this year Borciani Bonazzi takes part in the event, which will take place in Frankfurt am Main, Germany from 27th to 30th of January 2018.

Borciani Bonazzi exhibits its Made in Italy ranges of brushes and accessories for fine arts at booth A56, in Hall 4.1.
 
The focus will be on synthetic fibres, the latest frontier in the field of Fine Arts and Hobbies. These innovative solutions, patented by our production, guarantee results and performance just like natural hair, allowing intensive use, less sophisticated care and longer product life.

Unico, the brush line with four different synthetic versions dedicated to the various painting techniques, specifically guarantees excellence in performance and durability, meeting the needs of artists of both the hobby field and the Fine Arts.

Italia 1951 will also have a dedicated corner: it is indeed a growing success for this ecologically-inspired line of synthetic brushes for painting and hobby,  produced with energy obtained from renewable sources.
 
On the official website you can request the access pass to the Creativeworld Exhibition

Creativeworld, the largest international trade fair for hobby, craft and art supplies, from 27 to 30 January 2018 in Frankfurt. The Made in Italy by Borciani Bonazzi is waiting for you!