Borciani Bonazzi at Paperworld Middle East Dubai – New Ideas for New Business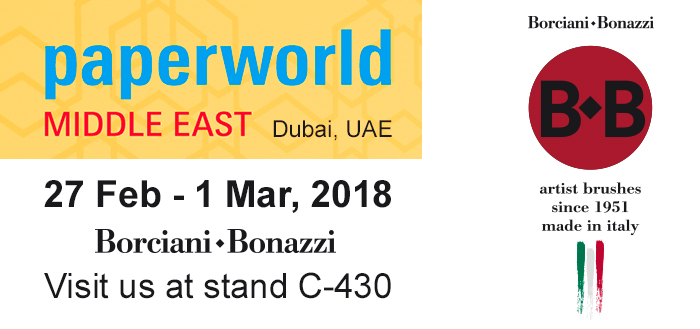 09/02/2018
Borciani e Bonazzi esporrà a Paperworld le gamme di pennelli e accessori per le Belle Arti e l'Hobbistica allo stand C-430.
Paperworld Middle East is the largest international trade exhibition for the stationery, paper, gifts and office supplies industry in the Middle East.
Dubai, February 27th – March 1st, 2018.
 
Borciani Bonazzi, the Italian brand which continues to receive enthusiastic acclaim on foreign markets, will show their ranges of brushes and accessories for Fine Arts and Hobbies at booth C-430.

The patented series UNICO and Italia 1951 in synthetic fibers, together with the series made of the finest natural hair, will be key players as leading-edge solutions for Fine Arts and Stationery.

Manufactured with craftsmanship by our expert artisans in our production plant in the North of Italy, Borciani Bonazzi's new series of brushes with patented synthetic fibres deliver excellent performances, after being tested by our production for intensive use, ensuring longer product life.
 
Paperworld selected Italia 1951 as a "green" sustainable brush to be highlighted for its innovative value in terms of environmental sustainability.

Italia 1951 will be showcased in "The Green Room", the area dedicated to the 4 most sustainable and environmentally friendly green products on the market and at the Dubai Exhibition.

On the official website you can register to get the access pass to Paperworld Middle East:

Register

Borciani Bonazzi's Made in Italy is waiting for you at Paperworld Middle East, in Dubai, February 27th – March 1st, 2018!