Lucca Comics&Games Heroes 2017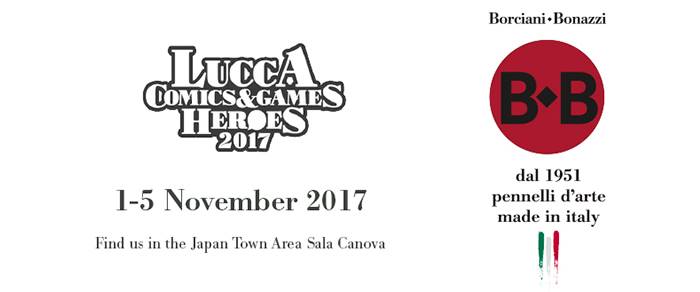 Event
From 1st to 5th November, Borciani Bonazzi will be at Lucca Comics, the European Festival dedicated to comics, games, cinema and video games.

It is the most important national and European festival dedicated to the art of drawing, cartoons, games and video games. This year, at the 51st edition, Lucca Comics and Games is dedicated to Heroes: comic book and fantasy novels, video game pixels, celluloid films and TV series, and to heroes in flesh and bone, the visitors, who travel to create the largest European community event every year.

Borciani Bonazzi participates in this international event in collaboration with one of the brand's historical retailers, the Schubert Belle Arti store in Livorno at their location in the Japan Town area, Giardino degli Osservanti, Sala Canova, booth 807.

Not a simple exhibition of brushes, but a real show within the show with the participation of the illustrator Stefania Vincenzi who will hold the "Smart Illustration Techniques" course at the booth using the Borciani Bonazzi brushes.

A selection that will focus on UNICO, the line of synthetic fibre brushes ideal for illustration, graphics and comics, which guarantees slow colour release, very high absorption, maximum performance, along with comfort and ergonomics.

On the occasion, Borciani Bonazzi also organizes the COMICSOON contest on the Facebook institutional page and the most popular work of the audience will be awarded, becoming the cover of the official Borciani e Bonazzi Facebook page. A unique opportunity for visibility for all artists who love drawing, graphics, comics and all the art forms of Lucca Comics & Games.
 
You can buy the ticket to access the event on the official website:

LuccaComicsandGames.com
Reportage
Lucca Comics & Games has just ended, the largest national and European festival dedicated to drawing, cartoons, games and video games, where for the first time Borciani Bonazzi was sponsor and exhibitor and was chosen by internationally known artists such as Stefania Vincenzi, Lucio Parrillo, Fabrizio Spadini, Emanuele Manfredi, Antonello Venditti and Carla Cohen.

A very successful experience for the brand of Made in Italy fine art brushes, where artists, illustrators and fans have shown great enthusiasm and appreciated the technical characteristics and performances of the brush lines.

Borciani Bonazzi exhibited in collaboration with one of the brand's historical retailers, the Schubert Belle Arti of Livorno shop at their location in the Japan Town area, which we want to thank, because the synergy between the company and the retailer has allowed visitors to know the great potential for illustrators and cartoonists in the choice of Borciani Bonazzi paintbrushes.

During the days of the event, the illustrator Stefania Vincenzi was guest of Borciani Bonazzi and held four sessions of the course "Smart Illustration Techniques".

Stefania Vincenzi is an illustrator and cartoonist. Many visitors were able to interface with her to find out about simple but extremely effective techniques in the illustration field.

During the sessions of the workshop Stefania chose to use the brushes of the UNICO Mangusta, Fiammato and Off-White series as well as the Italia 1951 series. The selection of these brushes was determined by the fact that the synthetic fibres which they are made of make them ideal for illustration and graphics, because they are extremely versatile, ensuring maximum stroke and overall performance.

In addition, the balanced and anti-rolling ergonomic handle makes them extremely comfortable to use.

Borciani Bonazzi was also the protagonist in the Performance Area, where artists such as Lucio Parrillo, Carla Cohen and Fabrizio Spadini created their works for a charity auction organized by Lucca Comics & Games with the UNICO brushes of the Fiammato and Mangusta series in their Passion for Art sets.

An exciting moment where Art meets charity and for which Borciani Bonazzi wants to thank the organization that wanted to engage the brand in a concrete charity project.
 
Even on socials, especially Facebook and Instagram, Borciani Bonazzi has been very successful among industry enthusiasts. The #COMICSOON contest on the Facebook institutional page closed by awarding the work of the Argentinian painter Tomas Ortolani, who won among those published online by fans which expressed all of the art forms present at Lucca Comics & Games.
 
The event closed with a very positive outcome for Borciani Bonazzi, where the feedback of artists and fans of illustration and comic books has been enthusiastic for the quality of the brushes, their versatility and the balance between price positioning and technical features.

We thank again Lucca Comics & Games, artists, visitors and the Schubert Belle Arti retailer for this first presence of Borciani Bonazzi at the 51st Lucca Cartoon and Illustration Festival.